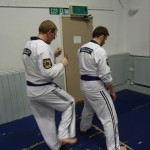 -Testimonial by – Peter Harrison-
Who said you can't teach an old dog new tricks?
The club at Ambleside truly is a mixed club where young meets old in a respectful and fun environment. I can't believe I am into my fourth year already with the club. So why Ju-Jitsu for me now in my 40s? The confidence I have gained is immense and add to that, fitness, discipline, friendships and a real sense of achievement through the grading process. As a father an image sticks with me.
A man some years ago, reported as being in the wrong place, wrong time! Assaulted leaving a widow and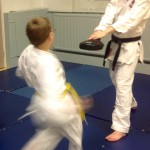 children without a father. How I wish he could have had the opportunity to learn some basic self-defence techniques, this tragedy could have been so different. Ju-Jitsu has given me a focus in the week where the day to day issues of life and work can be left at the door and the training and dedication can begin. Sensei Smith has the magic ability to work with all ages at all levels to achieve their goals. Young or old, the club has something for everybody – go on, try it!

Classes @ The Kelswick Centre every Sunday.
Mixed Juniors aged 5+ and Adults – 6.00 – 7.00pm

We regularly have offers on throughout the year, so please check the latest news section of the website to be kept up to date on what they are. For latest offers please click here

If you want to book either call, email or text
Sensei Smith 07718530346,
Black Belt 2nd Dan
Paul Wilson – 2nd Dan – Senior Black Belt (March 11)
Brent Parkyn – 2nd Dan – Senior Black Belt (October 13)
Black Belt 1st Dans

Stanley Gough- Junior Black Belt (October 13)
Connor Ryan-Williams – Junior Black Belt (October 13)
Callum McLaughlin – Junior Black Belt (October 13)
Scott Riley – Junior Black Belt (March 12)
Josh Weetman – Senior Black Belt (March 11)
Keiron Lowther- Junior Black belt (March 11)
Chris Graves – Senior Black Belt (March 10)
Brent Parkyn – Senior Black Belt (March 10)
Kyle Nisbet- Junior Black Belt (March 10)
Sammy Male- Junior Black Belt (March 09)
Jack Riley- Junior Black belt (March 09)
Geoff Cater- Senior Black Belt (April 09)
Paul Wilson- Senior Black belt (April 09)
Geoff Wightman- Senior Black Belt (October 09)
Tony Gilbert – Senior Black Belt (October 09)
Jack Gilbert – Junior Black Belt (October 09)
Gregor Rothwell- Junior Black Belt (October 09)
Tom Miles – Junior Black Belt (October 09)
Keelan Knight- Junior Black Belt (October 08)
Shane Mason- Junior Black belt (October 08)
Keelan Kight and Shane Mason
Wezy Gezzy October 2008
Callum Goulder- Junior Black belt (September 07)
Nick Waterton- Junior Black Belt (September 07)
Jake Male – Junior Black Belt (September 07)
Luke Robinson -Junior Black Belt (March 06)
Tom Owen- Senior Black Belt (March 06)
Graham Park- Senior Black Belt(March 06)
Roger Byron- Senior Black Belt(September 06)
Adam Robinson- Junior Black Belt (March 05)
Conor Giggle Junior Black Belt (March 04)
William Whittington- Senior Black Belt(March 04)
Kirsty O'Connor- Junior Black Belt (September 03)
Daniel Sweeney- Senior Black Belt (September 03)
Dean Giggle -Senior Black Belt (March 03)