Kesshin Kai Szymon Marciniak 'In 2 days I will take my Black Belt in Ju-Jitsu'
Szymon Marciniak gives a brief history of his Ju-Jitsu so far. Studying martial arts under Sensei Richard Smith for 6 years. You tube Video Click here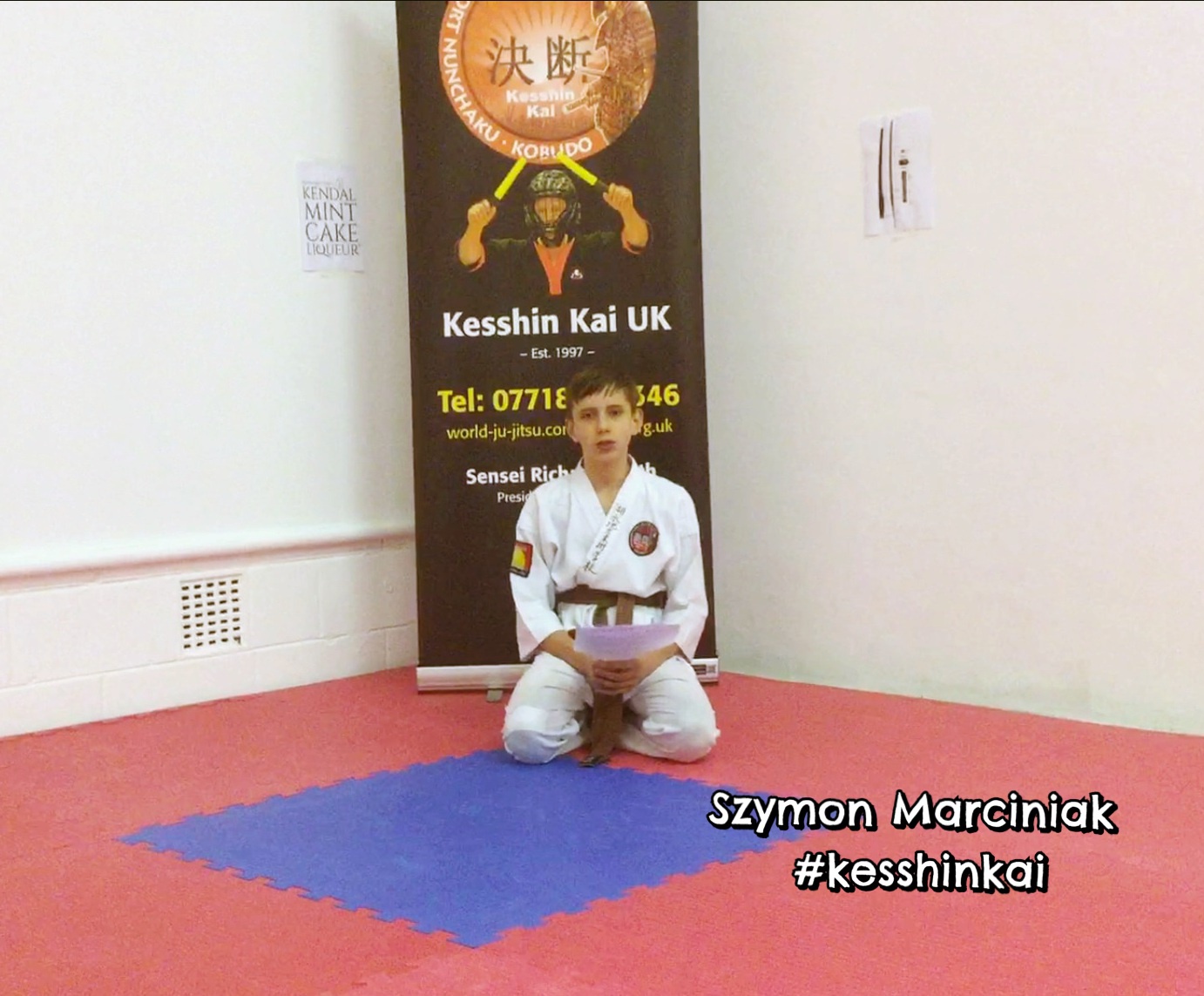 Szymon Marciniak 12 Years old achieves something amazing today. After 6 years of continued, committed and dedicated training in Ju-Jitsu with Sensei R.Smith 6th Dan Ju-Jitsu. He has reached a very high level of Shodan.
Szymon had the honour of attending a National#kessshinkai Ju-Jitsu Grading today at Windermere, H.Q.  He Started the training at 8.30am and passed his Black Belt in Ju-Jitsu at 12.30pm. Well done to Daniel Charnley for being an excellent Uke.
Szymon was fortunate to be assessed by high ranking Instructors from leading U.K. Based associations. Some of these included International Budo Federation (IBF) President, and National Coach of England and Wales 7th Dan Jiu Jitsu Sensei Tom Starling, President, Founder of Kesshin Kai U.K, Vice-president of Nunchaku International Academy, Sport Nunchaku National Coach 6th Dan Ju-Jitsu, 4th Dan Nunchaku, 2nd Dan Kobudo Sensei R. Smith.
Present at the grading was Joel Milner achieving a Pass Merit in Brown belt level 2 and Stanley Gough achieved a Pass Distinction at Brown Belt Level 3 (only 4 Levels left to Black) Respect and thanks also goes to 5th Dan Jiu Jitsu Sensei Jack Taylor IBF Vice President in assisting Sensei Starling today.
Kesshin Kai would also like to commend Szymon's parents and family for all their help, support and assistance in achieving his goal.
"Well done Szymon, you deserve it, S"