Welcome to the Headquarters of Kesshin Kai and Sport Nunchaku U.K. National Headquarters, Located half a mile from Windermere Town Centre (just off Droomer Drive). Established 1997 in Ambleside, Sensei Smith opened Windermere Dojo in November 2006 and has been teaching in Windermere since 2000.
The dojo is fully matted out with weapons on display for students to practice with, with a drinking water cooler machine, an excellent sound system and ample car parking.
All courses, workshops and grading take place here and students travel from Kendal and Ambleside clubs to train here.
Windermere has their own 'Tiger Club' for children aged 5 to 8 years old. This class is ideal for young children to improve their social and physical skills. It also provides an excellent learning enviroment for each individual to improve their confidence, maintain their concentration and most of all have lots of fun.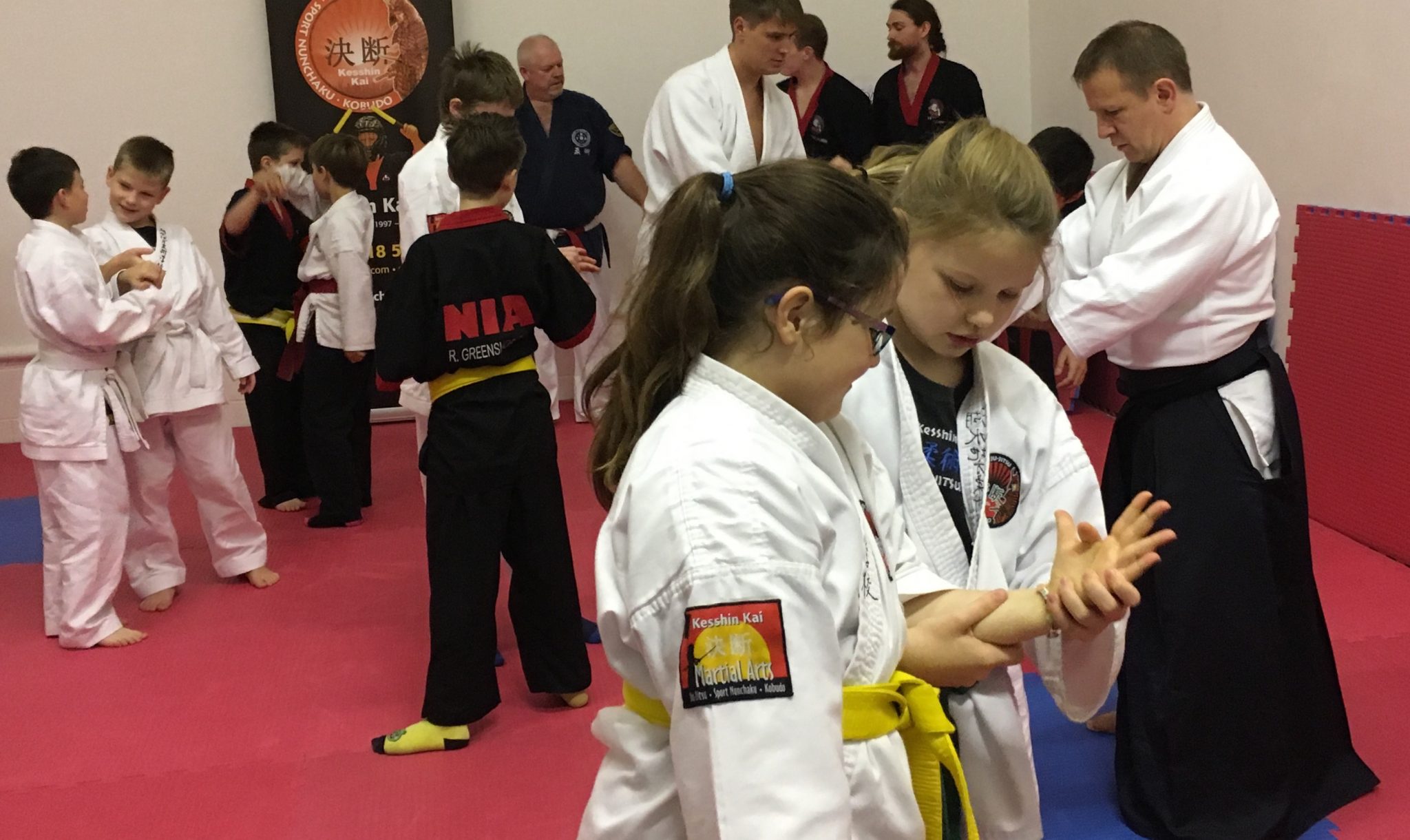 Ju-Jitsu classes @ Windermere Dojo are every Thursday.
Kobudo classes @ Windermere Dojo are every Monday.
Iaido classes @ Windermere Dojo are every Monday
Kesshin Kai U.K. Headquarters (Google Map)
Just off Droomer Drive
Windermere
Cumbria
LA23 2LR
Monday's – Kobudo all ages 6pm-7.30pm
Monday's – Iaido classes 7.30pm-9pm
Thursday's – Ju-Jitsu Juniors Aged 5yrs to 8yrs @5.15pm – 6.00pm
Sport Nunchaku U.K. @ 6.00pm- 7.00pm
Ju-Jitsu 9 years to adults @7.00pm – 8.00pm.
To book either call, email or text
Sensei Smith 07718530346,
info.jujitsu@yahoo.co.uk
Black Belts
Joel Milner -Senior Black Belt 1st Dan (November 17)
Szymon Marciniak- Junior Black Belt 1st Dan (November 16)
Brent Parkyn – 2nd Dan – Senior Black Belt (October 13)
Stanley Gough- Junior Black Belt (October 13)
Connor Ryan-Williams – Junior Black Belt (October 13)
Callum McLaughlin – Junior Black Belt (October 13)
Paul Wilson – 2nd Dan – Senior Black Belt (March 11)
Scott Riley -Junior Black Belt (March 12)
Josh Weetman – Senior Black Belt (March 11)
Keiron Lowther- Junior Black belt (March 11)
Chris Graves – Senior Black Belt (March 10)
Brent Parkyn – Senior Black Belt (March 10)
Kyle Nisbet- Junior Black Belt (March 10)
Sammy Male- Junior Black Belt (March 09)
Jack Riley- Junior Black belt (March 09)
Geoff Cater- Senior Black Belt (April 09)
Paul Wilson- Senior Black belt (April 09)
Geoff Wightman- Senior Black Belt (October 09)
Tony Gilbert – Senior Black Belt (October 09)
Jack Gilbert – Junior Black Belt (October 09)
Gregor Rothwell- Junior Black Belt (October 09)
Tom Miles – Junior Black Belt (October 09)
Keelan Knight- Junior Black Belt (October 08)
Shane Mason- Junior Black belt (October 08)
Keelan Kight and Shane Mason
Wezy Gezzy October 2008
Callum Goulder- Junior Black belt (September 07)
Nick Waterton- Junior Black Belt (September 07)
Jake Male – Junior Black Belt (September 07)
Luke Robinson -Junior Black Belt (March 06)
Tom Owen- Senior Black Belt (March 06)
Graham Park- Senior Black Belt(March 06)
Roger Byron- Senior Black Belt(September 06)
Adam Robinson- Junior Black Belt (March 05)
Conor Giggle Junior Black Belt (March 04)
William Whittington- Senior Black Belt(March 04)
Kirsty O'Connor- Junior Black Belt (September 03)
Daniel Sweeney- Senior Black Belt (September 03)
Dean Giggle -Senior Black Belt (March 03)