Carlisle
The Sands Centre, Carlisle, Cumbria CA1 1JQ
Wednesdays NEW CLASS
Tiger Ju-Jitsu 5.15-6pm Aged 4- 8 Years- NEW CLASS STARTS SEPTEMBER 14th 2016
Juniors & Seniors Sport Nunchaku 6-7pm
Juniors & Seniors Ju-Jitsu 7-8pm
Carlisle Ju
-Jitsu and Nunchaku club was set up back in 2008.
The club has seen many students come through the doors, and some of those students have gone on to take part in competitions abroad,
competing in combat fights in events with 120+ other competitors.
Students have started through all different avenues and for lots of different reasons: some have come for the fitness, others for self-defence knowledge and some for the social aspect but all have gained a level of confidence, achievement and improvement in all aspects of their lives. As an example of this, please find below a student testimonial.
-Testimonial by – Magdalena Ziolo-
Hi!
I'm Magdalena Ziolo and I came from Poland. I'm Fiftteen years old and I was going on ju-jitsu lessons since I lived in Carlisle three years.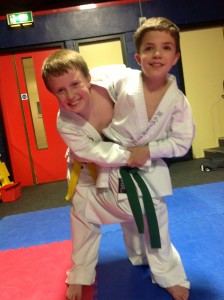 I start to really enjoy ju-jitsu lessons and I absolutely love it! When I had my first lesson I found it really challenging and I gave it a try. I also found my sensei is really nice and keen to help which means he's really helpful. At the beginning I found it hard because I wasn't quite sure what to do so my sensei was already there for me. He tried to help me and I did my best. Why I always come to this lessons is because it helps me to keep myself confident so I can believe in myself and keep on going, it has really good fitness so it keeps me on the move and fit and it also helps me in self defense skills when needed. Before I didn't joined ju-jitsu training I was pretty lost, shy, unconfident and weak. Me and my dad found a good activity for me to keep me busy and I thought that it might be an interesting activity to teach me about self defense. Later we both found out how good it is and how much it's worth to keep me fit and confident.
I saw my sensei showing us some exercises and moves to do and I also saw how self-confident are he's moves and I think that he's a really amazing person. I never saw a concentrated, confident as him! Now when I go on ju-jitsu lessons I'm pretty confident and I believe in myself. I have a blue belt grade and I try to work on purple belt. I think it's an enjoyable lesson for small children, teenagers and adults also at any age. I really recommend the Ju-Jitsu lessons because it's fun for all children, it has good self-defense skills, it keeps all people on good move and fit and in my opinion it's fantastic! I really recommend it!
info.jujitsu@yahoo.co.uk
Black Belts
Joel Milner -Senior Black Belt 1st Dan (November 17)
Szymon Marciniak- Junior Black Belt 1st Dan (November 16)
Brent Parkyn – 2nd Dan – Senior Black Belt (October 13)
Stanley Gough- Junior Black Belt (October 13)
Connor Ryan-Williams – Junior Black Belt (October 13)
Callum McLaughlin – Junior Black Belt (October 13)
Paul Wilson – 2nd Dan – Senior Black Belt (March 11)
Scott Riley -Junior Black Belt (March 12)
Josh Weetman – Senior Black Belt (March 11)
Keiron Lowther- Junior Black belt (March 11)
Chris Graves – Senior Black Belt (March 10)
Brent Parkyn – Senior Black Belt (March 10)
Kyle Nisbet- Junior Black Belt (March 10)
Sammy Male- Junior Black Belt (March 09)
Jack Riley- Junior Black belt (March 09)
Geoff Cater- Senior Black Belt (April 09)
Paul Wilson- Senior Black belt (April 09)
Geoff Wightman- Senior Black Belt (October 09)
Tony Gilbert – Senior Black Belt (October 09)
Jack Gilbert – Junior Black Belt (October 09)
Gregor Rothwell- Junior Black Belt (October 09)
Tom Miles – Junior Black Belt (October 09)
Keelan Knight- Junior Black Belt (October 08)
Shane Mason- Junior Black belt (October 08)
Keelan Kight and Shane Mason
Wezy Gezzy October 2008
Callum Goulder- Junior Black belt (September 07)
Nick Waterton- Junior Black Belt (September 07)
Jake Male – Junior Black Belt (September 07)
Luke Robinson -Junior Black Belt (March 06)
Tom Owen- Senior Black Belt (March 06)
Graham Park- Senior Black Belt(March 06)
Roger Byron- Senior Black Belt(September 06)
Adam Robinson- Junior Black Belt (March 05)
Conor Giggle Junior Black Belt (March 04)
William Whittington- Senior Black Belt(March 04)
Kirsty O'Connor- Junior Black Belt (September 03)
Daniel Sweeney- Senior Black Belt (September 03)
Dean Giggle -Senior Black Belt (March 03)