Kendal Leisure Centre, Burton Road, Kendal, Cumbria LA9 7HX
Fridays- Studio 2 (Turn right up the stairs at Main Reception)
Parents and Foxes 4.15pm-5pm –New Class Starts 3rd March 2017
Tigers Ju-Jitsu 5.15-6pm
Juniors & Seniors Sport Nunchaku 6-7pm
Seniors Ju-Jitsu 7-8pm
The Kendal club, which is based at Lakes Leisure, is now in it's 10th year and after an unbelievably successful 12 months, is going from strength to strength.
We have a Tigers section of the club on Fridays, which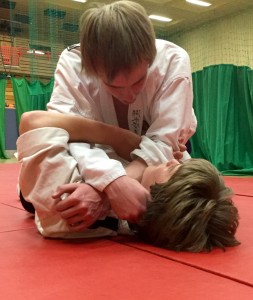 is specifically for students aged 5-8, and will also be introducing the New Foxes; a group designed for Parents and 3-4 year olds combined in one class. This is a great chance for Parents and children to get involved, concentrating on motor skills,  discipline, social skills, confidence and improve listening skills within a Self-defence based Ju-Jitsu environment.
From 9 years to adult the students train in the main class, so there is always a great mixture of ages and abilities on the mat at any one time, which makes the session fun. The varied mix keeps the class fresh and with so many people to work with there is always the chance to practice your grapples, locks, strikes and blocks with a new opponent. This ensures your mind stays focused and challenged and you get a full body workout which increases your fitness levels.
With gradings at least twice a year, it has been great to see the progression of so many Kesshin Kai students. From getting their white belt to moving through to orange and above , the change in so many people has been a privilege to witness and be part of.
-Testimonial by – Tom Miles-
"I am 15 years old & have been learning Ju-Jitsu for 7 years and Sport Nunchaku for 3 and a half years.
As well as training in Ju-Jitsu I also train in Nunchaku (made famous by Bruce Lee). In March 2008 10 students including myself and my Sensei Richard Smith (Nunchaku National Coach, 2nd in Europe(2012), 4th in the World(2012) attended the World Nunchaku Championships in Vevy, Switzerland.
I was the youngest competitor in my age category (10 – 13 years) and came 3rd in the world, bringing a bronze medal home for Great Britain.
I was lucky enough to attend the European Championships which was in Switzerland, December 2009
and gained so much experience from the trip.
At the European Championships in Britain in 2010, I was ranked 3rd in Freestyle, obtaining another bronze medal for the UK. I am really looking forward to the World Nunchaku Championships which Sensei Smith is hosting at Lakes Leisure, Kendal in May 2015.

I passed my Junior 1st Dan Black Belt October 2009.
Currently I am working on my Kobudo (traditional weapons), circle work, Atemi point punches & kicks to the body and Anatomy of the Samurai Sword."
We regularly have offers on throughout the year, so please check the latest news section of the website to be kept up to date on what they are.
For latest offers please click here
If you want to book either call, email or text
Sensei Smith 07718530346,
info.jujitsu@yahoo.co.uk
Black Belts
Joel Milner -Senior Black Belt 1st Dan (November 17)
Szymon Marciniak- Junior Black Belt 1st Dan (November 16)
Brent Parkyn – 2nd Dan – Senior Black Belt (October 13)
Stanley Gough- Junior Black Belt (October 13)
Connor Ryan-Williams – Junior Black Belt (October 13)
Callum McLaughlin – Junior Black Belt (October 13)
Paul Wilson – 2nd Dan – Senior Black Belt (March 11)
Scott Riley -Junior Black Belt (March 12)
Josh Weetman – Senior Black Belt (March 11)
Keiron Lowther- Junior Black belt (March 11)
Chris Graves – Senior Black Belt (March 10)
Brent Parkyn – Senior Black Belt (March 10)
Kyle Nisbet- Junior Black Belt (March 10)
Sammy Male- Junior Black Belt (March 09)
Jack Riley- Junior Black belt (March 09)
Geoff Cater- Senior Black Belt (April 09)
Paul Wilson- Senior Black belt (April 09)
Geoff Wightman- Senior Black Belt (October 09)
Tony Gilbert – Senior Black Belt (October 09)
Jack Gilbert – Junior Black Belt (October 09)
Gregor Rothwell- Junior Black Belt (October 09)
Tom Miles – Junior Black Belt (October 09)
Keelan Knight- Junior Black Belt (October 08)
Shane Mason- Junior Black belt (October 08)
Keelan Kight and Shane Mason
Wezy Gezzy October 2008
Callum Goulder- Junior Black belt (September 07)
Nick Waterton- Junior Black Belt (September 07)
Jake Male – Junior Black Belt (September 07)
Luke Robinson -Junior Black Belt (March 06)
Tom Owen- Senior Black Belt (March 06)
Graham Park- Senior Black Belt(March 06)
Roger Byron- Senior Black Belt(September 06)
Adam Robinson- Junior Black Belt (March 05)
Conor Giggle Junior Black Belt (March 04)
William Whittington- Senior Black Belt(March 04)
Kirsty O'Connor- Junior Black Belt (September 03)
Daniel Sweeney- Senior Black Belt (September 03)
Dean Giggle -Senior Black Belt (March 03)